2016年 11月 10日

インターンインタビュー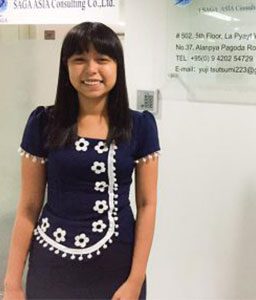 1. Why did you decide to intern at our company?
SAGA ASIA came into my notice at the regular Friday seminar. Instead of doing nothing during my university break, doing internship which can support my career would be better for me and my future. This is why I decided to work as an intern at Saga Asia.
2. What do you want to be in the future?
I am still in dilemma between becoming a teacher and becoming a corporate lawyer.
3. What do you enjoy in holiday?
Hanging out with friends is my first priority but when I am alone, I watch movies and variety shows.
4. What are your strengths and weaknesses?
Strength – I am easy to cope up with the changing environment. I am proficient in English to an extent and when I am dedicated to do something, I make it happen.